Get Rid of Bra Fat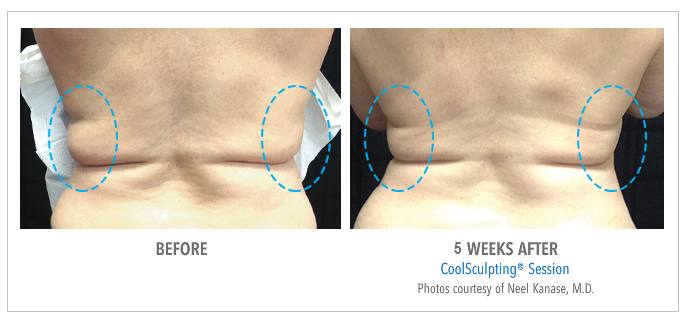 Are you frustrated with your bra fat or bra bulge? You are not alone. Bra fat accumulates in the armpit, upper back, and the top of the bra area. It can be difficult to get rid of this stubborn fat with exercise alone. You may be successful in toning the area, but losing fat pockets can get very difficult since the area is governed by genetics and age-related hormones.
Presently, CoolSculpting is the only way to target and reduce bra fat without getting a surgery done. It can safely and effectively reduce upper bra fat without any risks or serious side effects. You would experience a cooling sensation that would act as a natural anesthesia.
Few patients feel slight discomfort when the applicator wand is first applied. You may feel uncomfortable during the post-treatment massage too, but the feeling will only be transitory.
Motykie Med Spa, led by board certified plastic surgeon Dr. Gary Motykie, provides Elite Freeze CoolSculpting body fat reduction and body contouring treatments to patients in Beverly Hills, West Hollywood, Los Angeles, and surrounding communities.
Bra Bulge Causes
Bra bulge in upper back area is a stubborn and common issue. This is especially true for older women. Bra bulge is a band of fatty tissue and cells that sit above the back muscles to create a skin fold right above the waist. This can be caused by various factors. Bra bulge is a form of subcutaneous fat. It normally congregates around the upper back, armpit, and the bra area.
Bra fat can be caused by unhealthy eating habits and muscle underdevelopment. Consuming carbohydrates and refined sugar can increase abdominal fat. This is especially true when additional calories are not required by the individual. Back muscles quickly lose strength when you don't do strength training resulting in bra bulge.
CoolSculpting Treatment for Bra Fat
CoolSculpting is an uncomplicated process where you will meet your cosmetic surgeon in-person or online for an initial medical spa consultation. The surgeon will understand your aesthetic goals and give you a frank and honest assessment of the area. You can have all your concerns and queries cleared during the initial consultation.
It doesn't take more than 35 to 60 minutes to complete the CoolSculpting procedure. The surgeon will make use of an applicator wand for treating multiple fat cells. CoolMini applicator is generally used for targeting bra bulge. The unique shape of this applicator helps in dealing with contoured and curved areas.
People may experience mild discomfort at the beginning of the med spa treatment. However, the feeling will quickly dissipate after a few minutes. Regular schedule can usually be resumed almost immediately. You don't need any recovery where CoolSculpting is involved. However, you may experience mild swelling or bruising in the area.
What is CoolSculpting Elite?
There is a new applicator collection launched as CoolSculpting Elite. There are 7 different new sizes and shapes. One of the most popular shapes is the innovative C-shaped applicator designed for complimenting the natural curves of the body. You can enjoy improved comfort and fit with the applicator.
Motykie Medical Spa receives patients from Beverly Hills, West Hollywood, Los Angeles, and nearby areas for Elite Freeze CoolSculpting fat reduction and body contouring treatments.
Contact Motykie Med Spa in Beverly Hills, CA For More Information on Coolsculpting and Other Fat Removing Procedures:
Click here for Virtual Consultation
To see more services and treatments provided by Plastic Surgeon, Dr. Motykie in Beverly Hills | Los Angeles | West Hollywood CA and his team please visit: