Coolsculpting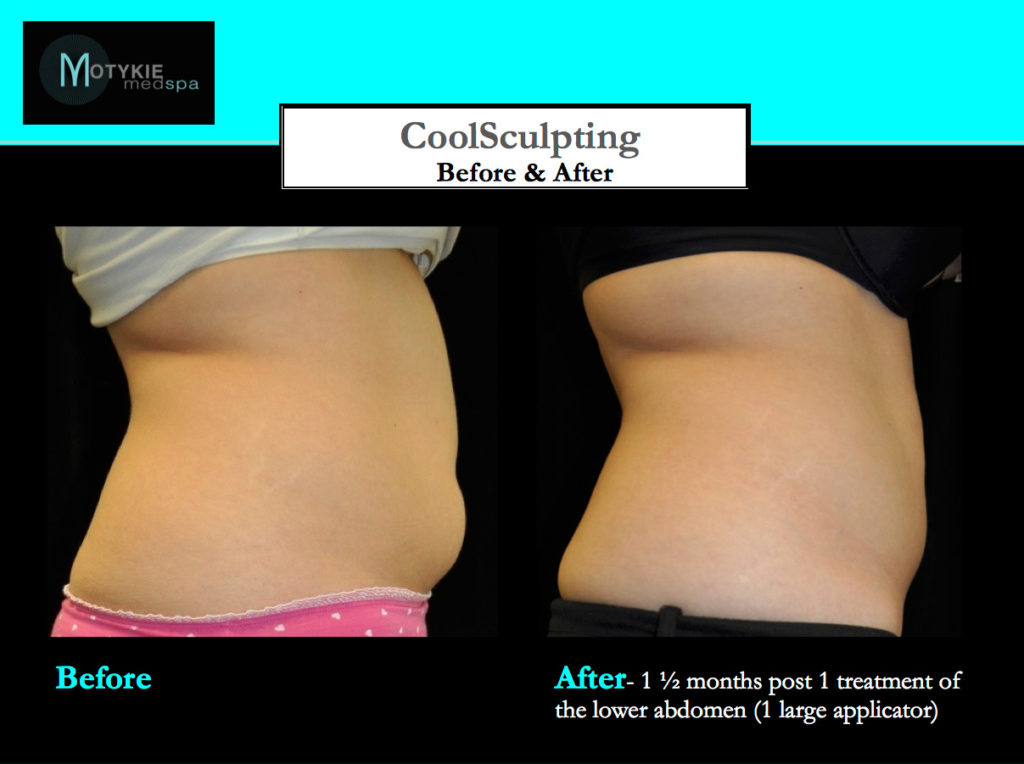 A number of research studies have shown that CoolSculpting is an effective and proven fat reduction procedure. It is a nonsurgical and noninvasive medical procedure for removing surplus fat cells from underneath the skin. There are several benefits of CoolSculpting over traditional fat removal procedures.
The noninvasive approach of this unique medical spa procedure is fueling its popularity across the country. CoolSculpting received FDA approval in 2010 and has seen a marked increase in the number of treatments by more than 800% since then.
Motykie Med Spa, led by board certified plastic surgeon Dr. Gary Motykie, provides CoolSculpting fat reduction and body contouring treatment to patients in Beverly Hills, West Hollywood, Los Angeles, and surrounding communities.
CoolSculpting Procedure
CoolSculpting makes use of cryolipolysis. The procedure works by placing the body's fat roll between two panels. These panels cool the fat to freezing temperatures. A study in 2009 observed the clinical efficacy of cryolipolysis.
Researchers reported that cryolipolysis was effective in reducing treating fat layer by almost 25%. The results of the treatment remained after 6 months as well. Dead and frozen fat cells were excreted from the body through natural process within a few weeks of the treatment. Full results following cryolipolysis could be seen after three months.
Several body parts can be treated with the CoolSculpting non-surgical medical spa fat reduction process. These include:
Lower back
Thighs
Belly
Sides
CoolSculpting can also be used for reducing the appearance of cellulite on buttocks, legs, and arms. Many people use it for reducing surplus fat under the chin. The procedure takes up to an hour for treating individual targeted areas. You should know that larger body parts require more treatment as compared to smaller ones.
Ideal Candidates for CoolSculpting
CoolSculpting doesn't work on everyone. For instance, it is not a treatment option for curing obesity. Instead, the treatment can be used for removing small amounts of surplus fat from targeted body areas when diet, exercise and other weight loss attempts have failed.
CoolSculpting is a proven, effective and safe treatment option for reducing body fat. However, there are a few people that should not try this treatment option. The procedure is not for people with the following conditions:
cryoglobulinemia
paroxysmal cold hemoglobuinuria (PCH)
cold agglutinin disease
Extent of Results
CoolSculpting results can last indefinitely with proper care. This is because the procedure kills fat cells and they don't come back. However, you may gain excess fat cells again in the treated areas if you gain weight following the CoolSculpting procedure. Difference is usually noticed by most patients after a single treatment session. Greater fat removal can be achieved over multiple treatments.
Why Should You Get CoolSculpting?
CoolSculpting is an effective treatment option when performed by an experienced doctor after careful planning. Your treatment provider will give you detailed instructions for minimizing risks while maximizing results. There are several benefits of CoolSculpting over surgical liposuction:
completely noninvasive
no significant discomfort
no downtime
minimal to no risk of complications
You can also drive home after the treatment and perform regular activities almost right away. Motykie Med Spa receives patients from Beverly Hills, West Hollywood, Los Angeles, and nearby areas for CoolSculpting freeze the fat body contouring treatments.
Contact Motykie Med Spa in Beverly Hills, CA For More Information on Coolsculpting and Other Fat Removing Procedures:
Click here for Virtual Consultation
To see more services and treatments provided by Plastic Surgeon, Dr. Motykie in Beverly Hills | Los Angeles | West Hollywood CA and his team please visit: