Now CoolSculpting® Can Remove Your Double Chin!
CoolSculpting® is an incredible, truly revolutionary technique that literally freezes away stubborn fat pockets around the waist, abdomen, thighs, buttocks, and arms, helping patients eliminate those pesky love handles, muffin tops, and saddle bags for a slimmer, sleeker physique. And now, the makers of CoolSculpting® have introduced yet another revolutionary advancement: the CoolMini™ applicator for the elimination of the double chin.
See More Coolsculpting Before & After Pictures for the Whole Body
That's right, now you can safely and easily eliminate your double chin by literally freezing away the submental fat causing this distressing bulge under your chin. The cutting-edge CoolMini™ applicator, currently offered by only an exclusive group of providers including Motykie Med Spa in Beverly Hills and Los Angeles, now targets hard-to-reach areas of fat accumulation such as the neck and chin. Like CoolSculpting®, the CoolMini™ applicator is non-surgical and completely non-invasive, safely and effectively enhancing the naturally-beautiful curves of your face for a perfectly sculpted, toned chin and jawline!
CoolMini Before and After Photos
What Causes A Double Chin?
Until now, the double chin has been one of the most difficult aesthetic concerns to address because it involves the accumulation of excess subcutaneous fat around the muscles of the chin. Otherwise known as "submental fullness", this frustrating aesthetic problem is usually caused by genetics, weight gain, or the natural aging process, and cannot be resolved by diet and exercise. Until the introduction of the CoolMini™ applicator, the only available treatments were risky liposuction, facelift surgery, or most recently, painful injectables. CoolMini™ is a revolutionary advancement simply because it achieves the same, if not better, results as liposuction or surgery without the cost, downtime, or risk of surgical complications in this delicate area!
The Revolutionary CoolMini™ Applicator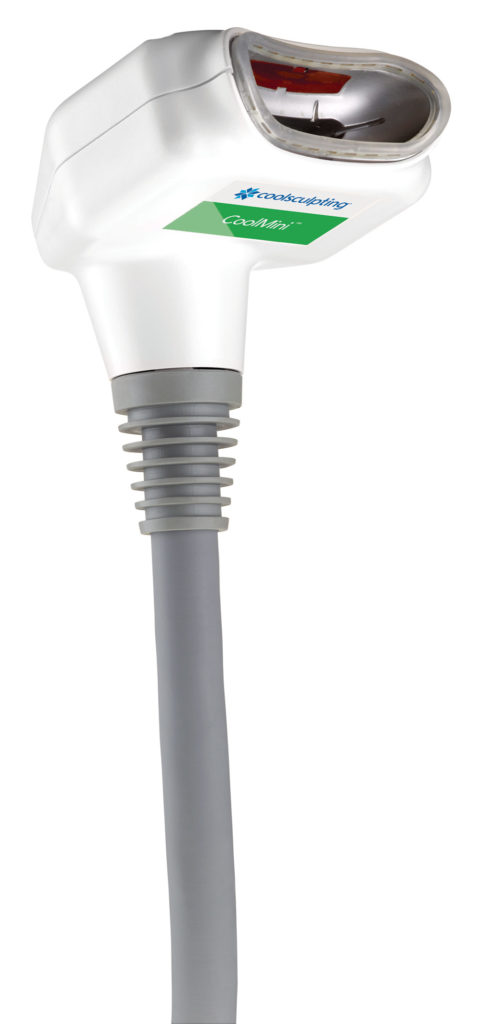 CoolSculpting® achieves its amazing body-slimming results by precisely targeting excess fat deposits with cooling energy, literally freezing and killing the unwanted cells while enabling the outer skin and surrounding tissues to remain unaffected. Once the targeted fat cells have died, they are easily and painlessly reabsorbed by the body's natural metabolic processes. CoolSculpting® is the ideal contouring technology for permanent elimination of large volumes of fatty tissue usually located in the abdomen, waist, and thighs. Until today, however, CoolSculpting could not target small volumes of fat in hard-to-reach area like the chin.
All that has changed with the introduction of the CoolMini™ applicator! The CoolMini™ applicator has the perfect size, shape, and curvature that make it ideal for targeting small volumes of fat in the neck and chin. This amazing new technology is completely comfortable, very safe, and very effective, and has been thoroughly tested and just recently approved by the FDA.
At the Motykie Med Spa, located in beautiful Los Angeles, we are dedicated to offering revolutionary aesthetic treatments that won't bite into your schedule or your pocketbook, and we are pleased to be one of a select group of providers of the CoolSculpting® CoolMini™ applicator! This incredible technology requires only a short, simple office visit, and will fit perfectly into your busy lifestyle. Optimal reduction of your double chin can usually be achieved in only one, sometimes two, treatments! There are no demonstrated side effects or need for downtime, so you can return to your normal activities immediately. Your slimmer chin will become visible three to four weeks after your treatment, as the body slowly absorbs the targeted fat cells, while your results will continue to show improvement over the course of three to four months. Most patients experience a permanent fat reduction of up to 20%!