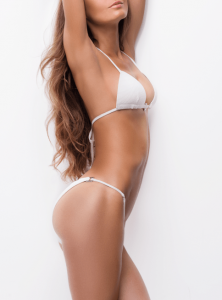 Liposuction and CoolSculpting are advanced cosmetic procedures which remove fat cells permanently and enhance body contours. The two procedures may be similar, but they have some key differences. Liposuction is usually used for removing larger amounts of fat tissue while CoolSculpting is best used for removing small amounts of fat. This provides mild to moderate results.
Liposuction is more invasive as compared to CoolSculpting. It also has an added risk of complications. Board certified plastic surgeon Dr. Gary Motykie provides CoolSculpting to patients in Beverly Hills, West Hollywood, Los Angeles, and surrounding locations.
CoolSculpting Procedure
CoolSculpting is a completely non-invasive procedure focused on removing extra fat cells from beneath the skin without a surgery. It is based on the clinically proven cryolipolysis process. The cosmetic surgeon or another provider will use a special tool for clamping down and cooling a roll of fat to freezing temperatures during the session.
Your body will naturally remove the dead and frozen fat cells through the liver in the weeks following the treatment. You would begin noticing results within a few weeks of the treatment. Final results can be seen in a few months.
CoolSculpting is completely non-invasive, which means there is no stitching, cutting, anesthetizing, or recovery time necessary. It will simply freeze the fat off to help you lose fat and regain shapely body contours.
Liposuction Procedure
On the other hand, liposuction is an invasive procedure which involves stitching, cutting, and anesthetizing. The surgical team will make use of lidocaine or another local anesthesia. They may sedate you through general anesthesia.
Your cosmetic surgeon will make tiny incisions using a scalpel around the area being treated. They will use a cannula (a narrow long tool) to loosen the fat cells. The cannula has a vacuum attached on one side to suck the dislodged fat cells from the body.
Difference in Duration Times
CoolSculpting
CoolSculpting doesn't involve any recovery time. One session may take anywhere from 30 – 60 minutes. Few people get their desired aesthetic goals in a single session. Treatment providers mostly recommend getting a few sessions performed to achieve best results. You should be able to see initial results in a few weeks following the first session. Full results of the CoolSculpting procedure may be noticeable within 3 months of the last session.
Liposuction
Only a single liposuction session is required to see results in most patients. The surgery doesn't take more than 2 to 3 hours, depending on the treatment extent. Liposuction, as per the American Society of Plastic Surgeons, is usually performed as an outpatient procedure. This means you can go home after having the surgery performed.
Procedure Effectiveness
The results of liposuction and CoolSculpting are similar. Both procedures are useful in removing excess fatty deposits from specific parts of the body in a permanent fashion. This includes:
It's vital to note that both procedures are not meant for weight loss. CoolSculpting as per a 2018 study was found to reduce fat layer thickness by 21.6% within 30 days. More than 85% liposuction patients said they would recommend the procedure as per a 2020 survey. Cosmetic surgeon Dr. Gary Motykie receives patients from Beverly Hills, West Hollywood, Los Angeles, and nearby areas for CoolSculpting.
Contact Motykie Med Spa in Beverly Hills, CA For More Information on Coolsculpting and Other Fat Removing Procedures:
Click here for Virtual Consultation
To see more services and treatments provided by Plastic Surgeon, Dr. Motykie in Beverly Hills | Los Angeles | West Hollywood CA and his team please visit: