CoolSculpting vs.

Emsculpt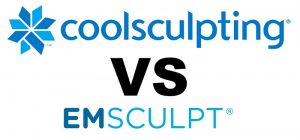 Advancements in body contouring technologies have led to the development of safe and effective non-surgical procedures that can help you get rid of stubborn fat pockets and create a sculpted figure. CoolSculpting and EmSculpt are two of the leading body contouring treatments that do not involve any cuts, incisions, needles, or medications.
During your initial consultation, your treatment provider will discuss the benefits and limitations of both treatments to help you make the best choice. Board certified plastic surgeon Dr. Gary Motykie provides proven and cutting-edge fat reduction treatments to patients in Beverly Hills, West Hollywood, Los Angeles, and surrounding locations.
Safety
Both CoolSculpting and EmSculpt system have been cleared by the FDA for cosmetic fat reduction. CoolSculpting has been around for much longer, and it was the first-ever treatment device to provide body contouring using freeze the fat technique.
EmSculpt is more recent, but clinical trials as well as patient feedback have shown that it is a safe procedure for people who want to lose fat without undergoing liposuction plastic surgery.
Results
EmSculpt is said to remove up to 19% of fat in the treatment area. CoolSculpting is FDA-Approved to remove up to 22% of fat in the treatment area, after a couple of weeks post-treatment.
Cosmetic results with CoolSculpting may significantly differ from those of EmSculpt, and in fact, the comparison may not be appropriate. If you are looking for a more ripped or shredded look (provided you are already lean), you could achieve your goals in a better way with EmSculpt.
However, if you are bothered by excess fat tissue deposits in certain areas where the rolls of fat are "pinchable," you may choose CoolSculpting fat reduction treatment. However, like most patients, you might fall somewhere between these two extremes. Therefore, your med spa treatment provider will be the best judge on which procedure will work best for you.
Versatility
CoolSculpting device is available with multiple handpieces that can work effectively on different areas of your body. Even if you are looking for fat reduction in difficult to reach areas such as under the chin, CoolSculpting has FDA cleared devices such as CoolMini to specifically work in these areas.
If your body weight is moderate (within 20 pounds of your ideal weight), and your primary concern is reduction of pinchable fat pockets in virtually any area of the body, CoolSculpting will have a device for you.
EmSculpt, on the other hand, makes use of flat panels to treat excessive fats on the buttocks or abdomen, and it can even be performed over clothing. Some experts believe that candidates with a BMI lower than 25 can achieve best outcomes with EmSculpt.
But overall, CoolSculpting will be more versatile because it can treat excess fats in the abdomen, buttocks, outer and inner thighs, upper arms, back, knees, calves, neck, and below the chin. EmSculpt is more suited only for the fat reduction in buttocks and abdominal area.
Risks and Side Effects
Both CoolSculpting and EmSculpt are virtually risk-free treatments. Mild and temporary side effects may occur in the treated areas, but they will resolve quickly. You will not go through any specific downtime, and can resume your daily activities right after your treatment session.
Cosmetic surgeon Dr. Gary Motykie receives patients from Beverly Hills, West Hollywood, Los Angeles, and nearby areas for body contouring treatments.
Contact Us For More Information
Click here for Virtual Consultation
To see more services and treatments provided by Plastic Surgeon, Dr. Motykie in Beverly Hills | Los Angeles | West Hollywood and his team please visit: