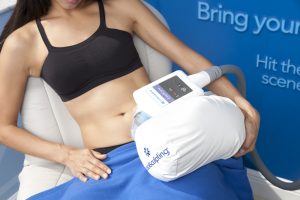 CoolSculpting is an FDA cleared procedure designed to help you lose fat in targeted areas where unsightly bulges are showing. It cannot make you fatter because it eliminates the treated fat cells permanently. Although it is not a weight loss procedure, CoolSculpting is a proven and effective fat loss treatment.
Board certified plastic surgeon Dr. Gary Motykie provides CoolSculpting non-invasive body contouring and fat reduction procedure to patients in Beverly Hills, West Hollywood, Los Angeles CA, and surrounding communities.
How does it work?
The unique cooling process of CoolSculpting will freeze the fat in the treated sites, causing the unwanted and stubborn fat cells to gradually disintegrate. These dead cells will then exit the body through the natural metabolic process over a period of several weeks, leaving a slimmer and contoured appearance in the treated sites.
CoolSculpting is most effectively used to reduce fat in areas that are usually resistant to diet and exercise, such as the abdomen, thighs, flanks, upper arms, back and buttocks. Unlike laser and other heat based techniques, CoolSculpting uses the innovative cryolipolysis process, which exposes the fat cells to low temperatures to destroy them.
The surrounding skin tissue as well as the outer skin layer does not suffer any damage in this controlled and targeted treatment process. Therefore, CoolSculpting involves virtually no downtime. You can simply return to your regular routine or go back to office after your CoolSculpting treatment session.
Who is a Suitable Candidate?
People who are struggling with excess fat deposits in certain areas of the body, but are not excessively overweight or looking for weight loss may be the best candidates for CoolSculpting. Unless you want dramatic fat reduction with liposuction plastic surgery, you may choose CoolSculpting as a completely non-surgical fat reduction treatment.
You will achieve fat loss and inch loss with CoolSculpting, but it is not designed to be a weight loss treatment. Fat cells, once eliminated from the treated areas, will not grow back in adults. However, you still need to be committed to a healthy and active lifestyle because the remaining fat cells in the body can still grow in size if you do not care about what you eat or how you handle your body fitness.
Customized Procedure
Your customized CoolSculpting treatment session will not last more than 40 or 45 minutes. The procedure involves no anesthesia, and no cuts, incisions or needles. You can relax and listen to music while the pain-free CoolSculpting process is in progress.
Your treatment provider will apply a gel pad and an applicator cup to the affected area and use vacuum suction to draw the fatty tissue between the two panels. You may require two to four treatment sessions spaced a few weeks apart. Following the completion of your treatment sessions, you can notice improvement to your body contours and shape over two to four months.
Results with CoolSculpting can be long lasting provided you remain committed to a healthy and active lifestyle. Clearly, there is no way CoolSculpting can make you fatter, but your own lifestyle habits can. Dr. Gary Motykie's medical spa receives patients from Beverly Hills, West Hollywood, Los Angeles CA, and nearby areas for CoolSculpting.

Contact Us For More Information
Click here for Virtual Consultation
To see more services and treatments provided by Plastic Surgeon, Dr. Motykie in Beverly Hills | Los Angeles and his team please visit: