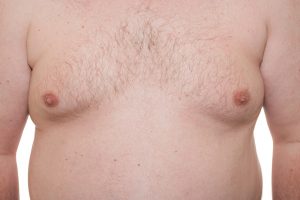 CoolSculpting is an FDA-cleared non-surgical fat reduction treatment. It is the only procedure that uses controlled cooling to eliminate stubborn fat that simply cannot be removed by a balanced diet and regular exercise.
People who have heard or read about CoolSculpting may be familiar with its potential to reduce the number of fat cells on the love handles, abdomen, and other areas for women. However, CoolSculpting may also be a suitable treatment to help a man lose fat on the chest.
Pseudo-gynecomastia is a common condition which is characterized by excess male breast tissue. It can be a source of self-consciousness or embarrassment in men of all ages.
This is usually a normal phenomenon, but pseudo-gynecomastia can negatively impact the quality of life for males, making them feel self-conscious about removing their shirts when swimming, at the beach, or during sexual activity.
The treatment of pseudo-gynecomastia can improve the self-esteem and body image in men ranging from their teenage years, through their 60s, and sometimes even later.
Board certified plastic surgeon Dr. Gary Motykie provides CoolSculpting body contouring procedure to patients in Beverly Hills, West Hollywood, Los Angeles CA, and surrounding locations.
The Use of CoolSculpting on Male Chest
Women are not the only ones who suffer from undesirable fatty deposits. Therefore, CoolSculpting is not meant for use on the female body only. Even men who are used to hiding under layers of baggy clothing and have been considering male breast reduction may want to evaluate CoolSculpting closely.
CoolSculpting is a non-surgical and non-invasive procedure. The CoolSculpting provider may be able to use the innovative freeze-the-fat technology to eliminate stubborn fat tissue in the male chest without any downtime.
While the most common treatment areas tend to be the love handles, tummy, and thighs, some specialists use CoolSculpting for male breast reduction. This is a non-label use as there is presently no CoolSculpting applicator meant specifically for the treatment of fat in the male chest area.
Research Study Results
Researchers assessed ten men with pseudogynecomastia to understand whether non-surgical fat reduction through cryolipolysis (CoolSculpting) is a safe and successful option. These researchers were testing to determine if fatty tissue only on the chest area could be addressed with CoolSculpting to create an appealing outcome.
Following two sessions of CoolSculpting spaced six weeks apart, the seven participants who completed the study experienced a visible reduction in fatty tissue thickness in the chest region treated with CoolSculpting in comparison to the untreated side of the chest.
In relation to this, the authors of the study reported that adverse events were transient and mild. CoolSculpting did seem to be safe as well as effective in reducing male chest fat in moderate amounts.
Am I a Candidate for CoolSculpting?
The only way for a person to establish their candidacy is to book an initial consultation with a qualified CoolSculpting expert. In this meeting, the CoolSculpting specialist will discuss the patient's eligibility for this treatment and the outcomes that they are likely to achieve.
The candidacy and potential outcomes differ between people, whether they are receiving treatment for the male chest, female love handles, or any other area.
About CoolSculpting
CoolSculpting is not designed to be an alternative to traditional weight loss techniques of consuming a balanced diet and exercising regularly. However, the procedure can effectively tone the areas of the body that have been unresponsive to diet and exercise.
The below mentioned highlights indicate why CoolSculpting is so popular:
One hour sessions requiring no anesthesia

Up to 25 percent fat reduction

Treats the love handles, abdomen, back, thighs, and other regions of the body

Pain-free treatment

No scarring

No recovery

Natural looking results over the course of two to four months
Cosmetic surgeon Dr. Gary Motykie receives patients from Beverly Hills, West Hollywood, Los Angeles CA, and nearby areas for CoolSculpting body contouring procedure.
Click here for Virtual Consultation
To see more services and treatments provided by Plastic Surgeon, Dr. Motykie in Beverly Hills | Los Angeles and his team please visit: