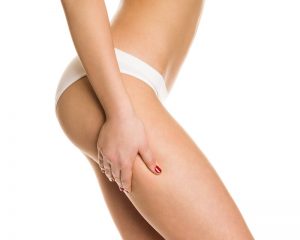 The inner thighs are a body part that is notoriously challenging to shape and sculpt. Some people can practice inner thigh lifts until they are red in the face. However, in reality, the inner thigh shape is determined by genetics.
How and where the body stores fat is a hereditary factor that is primarily beyond an individual's control. For most women, the much-coveted "thigh gap" usually seen on models gracing covers and runways is unrealistic.
For women and men who are healthy, fit, and within their ideal weight range, there are some transformative non-invasive procedures that can sculpt the inner thigh region without the need to undergo cosmetic surgery. Among these procedures, CoolSculpting is the most popular, FDA-cleared fat melting technique to help you lose fat in the thigh area.
Board certified plastic surgeon Dr. Gary Motykie provides CoolSculpting body contouring procedure to patients in Beverly Hills, West Hollywood, Los Angeles CA, and surrounding locations.
CoolSculpting History
There is no doubt that CoolSculpting by Zeltiq is the most sought-after and transformative non-surgical procedure. The FDA initially cleared CoolSculpting for the elimination of fat pockets around the flanks (love handles) in 2010. Later in 2014, CoolSculpting was cleared by the FDA for the reduction of fat in the inner and outer thigh areas.
CoolSculpting enjoyed almost immediate success as it presented a unique freeze-the-fat alternative to liposuction.
According to clinical studies, this procedure reduced subcutaneous fat by up to 25 percent after a single treatment. Nearly 86 percent of the participants experienced an improvement in the treated site.
Benefits of CoolSculpting for Thigh Fat Reduction
The CoolFit Advantage vacuum applicator enables the use of the device on the inner thighs.

A CoolSculpting procedure can be undertaken during the patient's lunch break with no downtime. This is ideal for patients who want quick, non-invasive cosmetic procedure that creates real outcomes without extended recovery periods.

The average person loses 25 percent of their inner thigh fat after a single session.

There is no risk of post-treatment issues with skin laxity as the fat reduction is slow, enabling the skin to retract

The CoolSculpting system is ideal for the treatment of smaller and more defined regions of fat accumulation around the inner thighs.
Outcomes of a Research Study
CoolSculpting is especially appropriate for inner thigh sculpting. According to one study, 45 participants between the ages of 18 and 65 received one 60-minute CoolSculpting treatment session for inner thighs, with the following results:
93 percent of patients were content with the treatment.

91 percent were likely to receive another treatment after the first.

89 percent would inform a friend about undergoing inner thigh cryolipolysis.

84 percent were happy with the outcome correlated with the less fat on their inner thighs after a single treatment session.
What to Expect After CoolSculpting of the Inner Thighs
CoolSculpting involves little to no recovery time. A majority of people can return to their normal activities right after the procedure. Sometimes there may be minor soreness or redness in the inner thighs. However, that will usually resolve within a few weeks.
The outcomes in the treated sites may be visible within three weeks of the procedure. Patients typically achieve optimal outcomes after two to three months, and the fat-flushing process goes on for up to six months after the initial treatment session.
Around 79 percent of people reported a positive difference in the manner that their clothes fit after CoolSculpting, according to CoolSculpting market research.
CoolSculpting is not meant to treat obesity and should not replace a healthy lifestyle. To maintain optimal results, it is important to consume a healthy diet and follow a regular exercise plan.
Cosmetic surgeon Dr. Gary Motykie receives patients from Beverly Hills, West Hollywood, Los Angeles CA, and nearby areas for CoolSculpting body contouring procedure.
Click here for Virtual Consultation
To see more services and treatments provided by Plastic Surgeon, Dr. Motykie in Beverly Hills | Los Angeles and his team please visit: