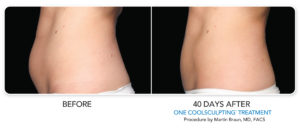 Among non-surgical fat reduction procedures available today, CoolSculpting is one of the leading options. The procedure is ideally suited for people who want to lose fat in certain areas of the body without having to undergo liposuction surgery. CoolSculpting holds the distinction of being the only FDA cleared, non-surgical fat reduction technique involving a unique cooling process.
Board certified plastic surgeon Dr. Gary Motykie provides CoolSculpting to suitable candidates who want to reduce stubborn fat pockets in areas such as thighs, buttocks, abdomen, upper arms, back, and neck. CoolSculpting will simply freeze the fat off, and eliminate it to reveal a more sculpted figure. Dr. Motykie provides this procedure to patients in Beverly Hills, West Hollywood, Los Angeles CA, and surrounding locations.
Developed by Top Scientists
The idea to leverage the power of cold temperatures to get rid of unwanted fat tissue took shape at the Wellman Center for Photomedicine at Massachusetts General Hospital in Boston, which is affiliated with the Harvard Medical School. Innovators and scientists at the institution developed cutting edge CoolSculpting technique to eliminate targeted fat cells and enhance body contours without surgery.
As the cool temperature gently reaches below the skin, the fat cells are the first to respond to its effect. As these cells become frozen, they begin to disintegrate. They gradually get removed from the body through its natural metabolic process, and the patient can lose fat in a completely non-invasive, natural looking, gradual manner.
CoolSculpting can be repeated over multiple treatment sessions to achieve comprehensive outcomes. Each treatment session will last for about 30 minutes to one hour. Dr. Motykie receives patients from Beverly Hills, West Hollywood, Los Angeles CA, and nearby areas for CoolSculpting.
Permanent Results
One of the benefits of CoolSculpting is that it will freeze the fat cells and eliminate them permanently from the targeted area. The fat cells once gone, are gone for good. This is an advantage over several other non-invasive fat reduction techniques as well as diet programs, where the fat cells may return to the same area.
In any case, patients should be aware that CoolSculpting is not a replacement for a healthy diet and fitness regimen, which should be maintained throughout life to enjoy a slimmer and fitter body.
No Downtime
CoolSculpting offers an excellent advantage to working people and busy moms who want a fat reduction procedure that can fit within their busy schedules. CoolSculpting treatment involves no downtime, and patients can simply return to their normal routine after the treatment session. No significant post-treatment discomfort or downtime has been reported with CoolScultping.
Safety and Comfort
The patient will remain completely comfortable during the CoolSculpting treatment session. Only a brief feeling of intense cold will be felt in the affected area during the procedure. The patient can read, use their mobile device, or even take a nap while the treatment is in progress. The procedure is totally safe and has received the FDA's clearance to reduce undesirable fat bulges in certain areas of the body.
Click here for Virtual Consultation
To see more services and treatments provided by Plastic Surgeon, Dr. Motykie in Beverly Hills | Los Angeles and his team please visit: