Coolsculpting Treatment – Beverly Hills | Los Angeles | West Hollywood
Motykie Medical Spa, led by board certified plastic surgeon, Dr. Gary Motykie, provides state of the art treatments for cosmetic enhancement. Patients in Beverly Hills, West Hollywood, Los Angeles and surrounding communities have an advantage to receive aesthetic treatments that are highly innovative and effective.
What is CoolSculpting?
CoolSculpting is a revolutionary non-invasive aesthetic treatment designed to reduce unwanted fats and achieve enhanced body contour without surgery. Many patients are keen to lose fat, but may not be able to gain much success with diet and exercise if the fats are very stubborn. Patients have the option to opt for plastic surgery procedures or choose a non-surgical treatment in case they are unwilling to go for surgery. Out of the various non-surgical treatments available today, CoolSculpting is the most unique because it involves a process to freeze the fat off.
Unlike other non-surgical procedures that are laser based, radio frequency based or ultrasound based, CoolSculpting does not employ a heat based technique to melt away unwanted fats. It adopts a radically different approach that is highly safe, precise, and does not cause any damage to the surrounding healthy tissue.
This approach involves treating the targeted fat deposit area with an intense cooling process that will freeze off the unwanted fat cells to their death. The targeted fat cells disintegrate gradually and the body will lose fat in a natural looking manner over a period of several months.
See Coolsculpting Before and After Photos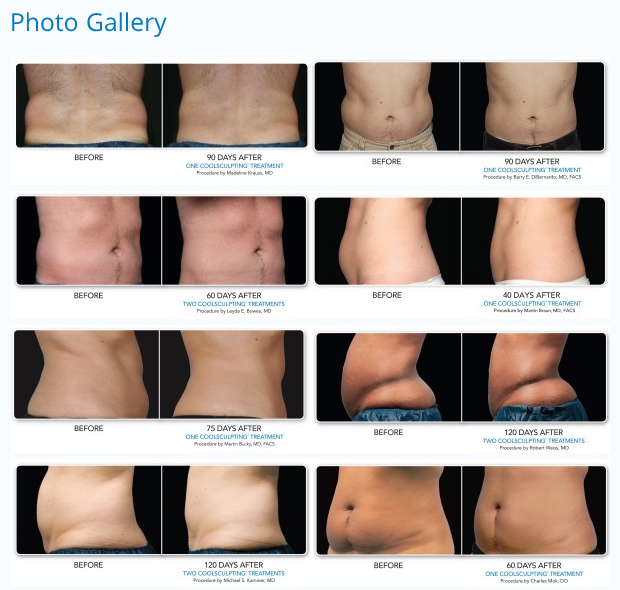 Length of a Single CoolSculpting Treatment
At the time of the initial consultation, the CoolSculpting expert providers at the Motykie Medical Spa will discuss with the patient how much time may have to be allocated for a single treatment. This will depend on the individual treatment plan that is developed for a particular patient according to their health condition, areas of concern, body fat condition and their unique aesthetic goals.
Before the length of treatment is discussed, the provider will make sure the patient understands all aspects of CoolSculpting treatment and how it will successfully freeze the fat off from the specific areas of the body.
Patients in and around Beverly Hills, West Hollywood, and Los Angeles who may visit Motykie Medical Spa for this treatment are encouraged to discuss all their concerns and seek answers to any queries or doubts that they may have about this treatment.
Sometimes the patient may not be ready to undergo a single prolonged treatment, in which case the provider may decide to make a treatment plan that involves multiple treatments of shorter length. Conversely, some patients may be keen to complete treatment in minimum possible sittings, and the length of each treatment may be increased accordingly.
On an average, a typical CoolSculpting treatment may last anywhere between one and three hours. Patients who have a moderate body weight will be able to lose fat most effectively, which makes them ideal candidates for this treatment. A single treatment session of one to two hours may suffice for one particular treatment area such as the abdomen or flanks.
The patient may lose as much as 15 to 20 percent fat in the targeted area over a period of two to four months with a single treatment. Some patients may need a second treatment after a gap of a few months in order to achieve more comprehensive or pervasive results.
Repeat Treatments
CoolSculpting treatment will freeze the fat cells permanently, and the targeted fat cells will not grow back. However, some patients may still have a need for repeat treatments for different reasons. In some cases, all the targeted fat cells may not be killed off in a single treatment session.
Therefore, within a few months after treatment, if the patient tends to gain weight again, the remaining fat cells may spread over the treated as well as the non-treated areas. If the patient maintains a regular diet and exercise regimen, this condition will most likely not arise, and the patient can enjoy the results for the long term.
In some other cases, the patient may be satisfied with the outcome in the particular area such as abdomen, and may decide to lose fat in another area such as the buttocks or thighs after a few months. In such a case, a repeat treatment in a new area may be performed after a gap of about two to three months.
Depending on individual cases, the treatments may be repeated twice or thrice with a gap of two to three months each. As CoolSculpting is a completely safe, proven, and FDA approved fat reduction treatment, it is possible to have multiple treatments of varying lengths as per the individual aesthetic needs of a patient.
To see more services and treatments provided by Dr. Motykie and his team please visit: