CoolSculpting's CoolTone Treatment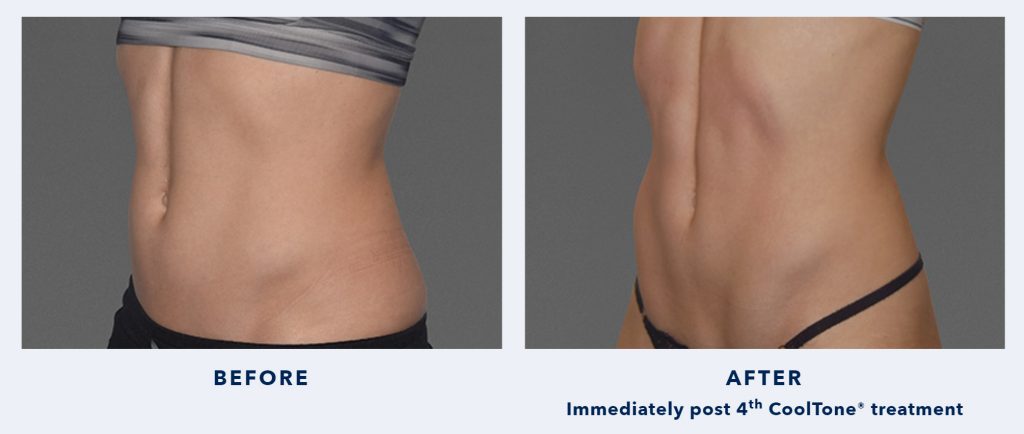 CoolTone procedure is a salient option for people looking to tone and firm up their muscles. The treatment does not involve any significant complication risk or downtime. This makes it a perfect option for working professionals or busy mothers looking to firm up their body.
CoolTone is a highly cost effective treatment as compared to cosmetic surgery procedures, such as liposuction and a body lift. Your surgeon will explain the various aspects of this treatment during the initial consultation, including all estimated costs.
Motykie Medical Spa, led by board certified plastic surgeon Dr. Gary Motykie, provides CoolTone for muscle tone improvement to patients in Beverly Hills, West Hollywood, Los Angeles, and surrounding locations.
CoolTone Cost vs. Surgery Cost
Muscle toning through surgical procedures is usually more expensive as compared to CoolTone. This non-invasive procedure does not accrue the costs associated with intravenous sedation or general anesthesia. These are usually necessary with fat reduction surgeries.
Cosmetic surgery tends to be invasive and complex necessitating meticulous pre-operative preparation along with monitoring and post-surgical care. These factors tend to increase the costs associated with a procedure. Muscle toning plastic surgery requires a hospital or a surgical facility.
In comparison, a single session of CoolTone procedure can be undertaken as an in-office treatment lasting for 30 to 60 minutes. You should be able to resume your normal activities the same day after the procedure.
Factors Affecting Costs Related to CoolTone
CoolTone costs can differ between two patients getting the treatment at the same facility or two different practices due to a variety of reasons. Few of these are:
Location
Cosmetic procedure costs are usually lower in smaller interior towns as opposed to main urban centers. Several factors are responsible for this, including local taxes, real estate costs, and higher living costs. These factors impact the costs associated with products and services, including cost of cosmetic procedures.
Extent of Treatment
Treatment costs may be higher for patients getting extensive CoolTone procedures as opposed to those only getting it done in a small area of the body. Cost of treating buttocks, thighs, abdomen, and other extensive body areas is significantly higher than the cost of treating the neck or chin. The number of sessions required by a patient to achieve desirable results also plays a part on the overall dollar cost of procedure.
Average Cost of Treatment
CoolTone treatment is a highly customizable treatment and different for different patients. The cost of treatment may vary significantly depending on the treatment plan. Multiple treatment sessions and the extent of treatment can drive up the financial ramifications of CoolTone treatment.
There are several professional medical care firms that help patients acquire finance for their CoolTone treatments. Additionally, you can also consider using alternative financing options, such as bank loans, private loans and credit cards.
CoolTone is Not Covered by Insurance
CoolTone is an elective aesthetic treatment and not eligible for insurance coverage. However, you can ask your treatment provider for convenient payment plans and discounts to make the treatment more affordable. Motykie Med Spa receives patients from Beverly Hills, West Hollywood, Los Angeles, and nearby areas for CoolTone muscle toning treatments.
Contact Motykie Med Spa in Beverly Hills, CA For More Information on Coolsculpting and Other Fat Removing Procedures:
Click here for Virtual Consultation
To see more services and treatments provided by Plastic Surgeon, Dr. Motykie in Beverly Hills | Los Angeles | West Hollywood and his team please visit: