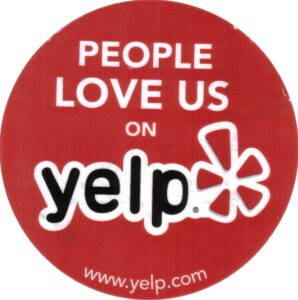 The Yelp sticker is a accolade designed to be akin to a high Zagat rating. That means that you can't order a "People Love Us on Yelp" decal for love or money. Instead, we earned them from our high rankings on Yelp.
See what patients had to say about Dr. Motykie on Yelp:
"When you go to a med spa you want three things :
1. a beautiful tranquil spa environment
2. gracious staff
3. RESULTS!
Complimentary wine helps too, but that's more icing than cake. considering the location (los angeles) and the economy (shitty), we'll usually settle for 1 out of 3! sometimes you get crazy lucky and hit all 3. THAT was my experience at motykie med spa. given the chi-chi factor of its location, i wasn't surprised to step into a lounge with pristine white barcelona-inspired seating and gleaming chrome. what WAS a surprise was the friendliness of the staff. everyone was friendly and nice, without the air of snobbishness that usually permeates sunset.
Brooke, the nurse who performed my service (micro botox), was AMAZING. she was very warm and engaging, someone you immediately feel comfortable with. i very much appreciated the fact that she did not in any way try to sell me on other products or services, but she also did not make me feel bad for being broke. again, it's a crap economy so i can only indulge in these treatments when there's a great special or discount. i've been to other places that will make you feel like a slimy creature of undetermined origin for having the audacity to buy anything on sale, so her kindness and non-pushiness was both incredible and respectful.
Last, but not least, the service was comfortable and efficient.
I will definitely be back!"

Click here to read more patient reviews on Yelp