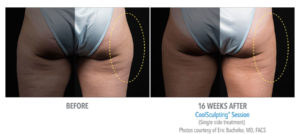 Summer is the time when bikini season is in full bloom. However, many women feel embarrassed about their body shape and appearance of undesirable fat pockets, and may not be able to enjoy the summer in a bikini as much as they would want to.
Dr. Gary Motykie is a board certified plastic surgeon providing innovative solutions to reduce fat and help women get their body bikini ready. Dr. Motykie offers CoolSculpting, which is a completely non-invasive fat reduction procedure, to patients in Beverly Hills, West Hollywood, Los Angeles CA, and other neighborhoods and cities in this part of Southern California.
Shapely Figure with CoolSculpting
CoolSculpting is an FDA cleared procedure that involves a unique cooling process developed by Harvard scientists to freeze the fat cells away. The procedure works on the principle that fat cells respond faster to cold temperatures and get frozen to their death, while the surrounding healthy tissue remains unharmed.
The frozen cells gradually disintegrate and exit from the body through the natural metabolic activity. This leaves behind a slimmer, smoother shape that appears nicely sculpted. Customized CoolSculpting treatment plans can be created according to an individual's cosmetic needs, time availability and budget.
Once the treatment plan is finalized, the provider will position the CoolSculpting device on the targeted area of the body and apply controlled cooling. The patient remains completely comfortable throughout the procedure, and can immediately return to their normal routine after the treatment session is over.
Results with CoolSculpting are noticeable and sustainable. The fat cells eliminated through this process are gone for good, and the woman is free to enjoy a new, more sculpted body that is ready for a bikini on the ocean or pool side.
Areas Treated
Both women and men can benefit equally from CoolSculpting technique. The procedure can help them lose fat in targeted areas, such as the upper and lower abdomen, muffin tops, lower back, inner thighs, upper arms, and bra roll. CoolSculpting now also offers CoolMini technique, which can treat stubborn fat pockets in harder to reach areas such as below the chin.
Treatment Sessions
On average, a person will need anywhere between two and six treatment sessions of CoolSculpting to achieve their fat reduction goals. Each session will be spaced a few weeks apart. Average treatment time in one session is about 40 minutes when the latest CoolSculpting treatment devices are used.
An individual requiring a higher volume of fat cell reduction or have a higher density of fatty tissue will usually require more treatment sessions to achieve their fat reduction goals. Experienced cosmetic surgeon Dr. Gary Motykie receives patients from Beverly Hills, West Hollywood, Los Angeles CA, and nearby areas for CoolSculpting.
Realistic Expectations
A patient with realistic expectations will be able to appreciate the results of CoolSculpting in a better way and feel more pleased with their new body image. Overweight patients may not achieve substantive improvement or may need more treatment sessions to meet their fat reduction goals. However, patients should be aware that CoolSculpting is not a weight loss procedure, but a body contouring treatment.
CoolSculpting can help women reduce circumference around the waist and other areas and get their body bikini ready to welcome the summer with zeal.
Click here for Virtual Consultation
To see more services and treatments provided by Plastic Surgeon, Dr. Motykie in Beverly Hills | Los Angeles and his team please visit: